Compare 2020 & 2019 Ford F-150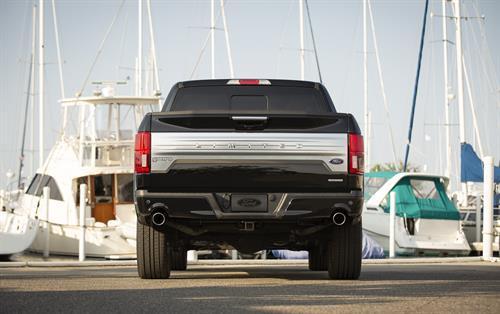 It's no secret that Ford has been testing prototypes of an all-electric version of its all-conquering F-150 full-size, light-duty pickup truck, but it's going to be a while until we see that one in showrooms. There's no doubt a gas/electric hybrid version of the F-150 will arrive before then, but it seems we can forget any idea of that one appearing as part of the 2020 Ford F-150 lineup. If you're wondering whether to buy a 2019 Ford F-150 or wait for the new model year, here's a 2020 Ford F-150 vs 2019 Ford F-150 comparison to help you decide.
Exterior styling
Although the basic exterior styling of the F-150 is going to stay the same for the 2020 model year, there are going to be some new options for buyers to have a truck that looks even better than the Ford does already. The entry-level XL trim level will be available with an STX Sport Appearance package, while XLT and Lariat variants will have the option of a Black Appearance package. There will be three new colors added to the palette too, which will be Iconic Silver, Rapid Red Tinted Clear-Coat, and Star White Metallic Tri-Coat.
Trim levels
There isn't going to be any change to the trim levels available in 2020, but that's not an issue as there's already so much choice with seven different models available. It means the XL will still be the entry-level model, and then we have the XLT, Lariat, King Ranch, Platinum, Limited and the Raptor.
Engines
Until the hybrid propulsion system eventually gets added to the F-150 lineup we will still have the same engine options for the 2020 model as we have with the 2019 F-150. However, even though the 2020 F-150 will have the same engine available, the turbodiesel that became available for 2019 will be more widely available. At the moment the XLT isn't available with the V-6 Power Stroke V-6 turbodiesel, but the 2020 Ford F-150 XLT will be.
Safety
The 2019 Ford F-150 is already packed with advanced safety features, but the 2020 F-150 will make some of the most advanced safety kits more widely available than it is at the moment. Ford's Co-Pilot360 suite of advanced safety features is standard with King Ranch and higher versions of the 2019 F-150, but with the 2020 model, the suite will be standard from Lariat models and higher.
Capability
Both the 2019 and 2020 versions of the F-150 will offer the same maximum payload and towing capability, but that's not a surprise as the Ford is already an absolute beacon of capability. You'll still be able to haul up to a maximum of 3,230 pounds, and you'll still be able to tow up to a maximum of 13,200 pounds. That means the light-duty Ford is now creeping towards the capability of heavy-duty versions of some of its lesser rivals.
Differences between the 2019 Ford F-150 and the 2020 Ford F-150 might be relatively small, but that means there's every reason to check out a new Ford F-150 at Port Alberni by visiting us at Van Isle Ford right now.
Source: